About Herbal Knowledge Keepers
Twice a month D'Coda and Bluestar Deerwomon appear on Herbal Knowledge Keepers (every other Tuesday). The show is broadcast live on Conscious Consumer Network out of the Netherlands. Since it's live, viewers are invited to call in or talk via chat. The show is lively, spontaneous and jam packed with important information about different aspects of holistic medicine. We're sponsored by Full Bloom Productions and Get Lit.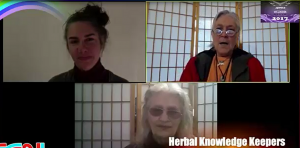 See Get Lit for upcoming shows. Or, check the events postings at Ozark Herbal Academy's Facebook page.
The first hour is devoted to subject material found in the database. Handy for our users as a way of becoming familiar with it's many layers. During the second hour we either have a guest or, D'Coda shares stories of her years living alone in a remote wilderness.
Is there a topic you'd like to have covered? Just email D'Coda at dcoda@herbaldatabase.org. Do you know someone we should invite onto the show?
All shows are archived here under the "Media" menu tab.